Alright, Witches, it's Fall, I know it's not the official day of fall yet, but who actually cares? and you know what that means, the best time of the year has officially arrived. From someone whose hometown is literally The Halloween Capital of the World, (go ahead, peep that) I can finally wear my blanket scarf and a white sheet over my head and make ghost sounds, without looking like a total freak. Without further or due, here are some really spooktacular things we can now do because it's fall:
Summer is coming to an end, and we all know what that means. It's time to go back to school, bundle up in your favorite fall clothes, and say goodbye to relaxing summer days spent with friends and family. Although it may not be beach season anymore, exciting times and great memories are coming ahead. Here are some tq1houghts I've had about the end of summer and beginning of fall.
1.
Classes are starting, which means I'll have less free time.
Oftentimes when we think of fall, the first thing that comes to our minds is the dread of school starting. Though we may start the year bright-eyed and bushy-tailed, heavy workloads and procrastination is inevitable. Last minute school supply shopping and all-nighters await.
2.
I'm gonna see my friends again and make new ones!!
Good friends are probably the only thing that makes sitting through class bearable. Even though hanging out outside of school is much more fun, being with your friends in class is pretty fun too. Making new friends is another thing to look forward to; who knows, maybe that stranger sitting next to you in class could end up being one of your closest friends. Don't be afraid to talk to new people because there's nothing to lose.
3.
Should I get another Marshmallow- Fireplace scented candle?
Yes. We all should. There is no such thing as too many fall-scented candles.
4.
What should I be for Halloween?
I don't know about you, but as soon as October starts I immediately go into Halloween mode. Scary movies, snacks, and costumes are at the top of my list. I try to plan out my costumes early (perhaps even earlier than my homework assignments). I also definitely recommend the Halloweentown movies if you haven't watched them already.
5.
It's finally sweater weather!!
While I love wearing cute summer dresses and sandals, there's nothing more comfortable than a cozy sweater or hoodie. Pair that with a big blanket, hot chocolate, and a movie for the ultimate experience.
6.
Cool, crisp air and multicolored leaves = perfect for photography.
Red, yellow, and orange leaves are the perfect fall aesthetic. Put on your favorite jacket and take a walk, listening closely to the crunching leaves underneath you. If you see something during your walk that is memorable, use your phone or camera to capture it.
7.
We usually think of pumpkins too.
Whole…
…or carved.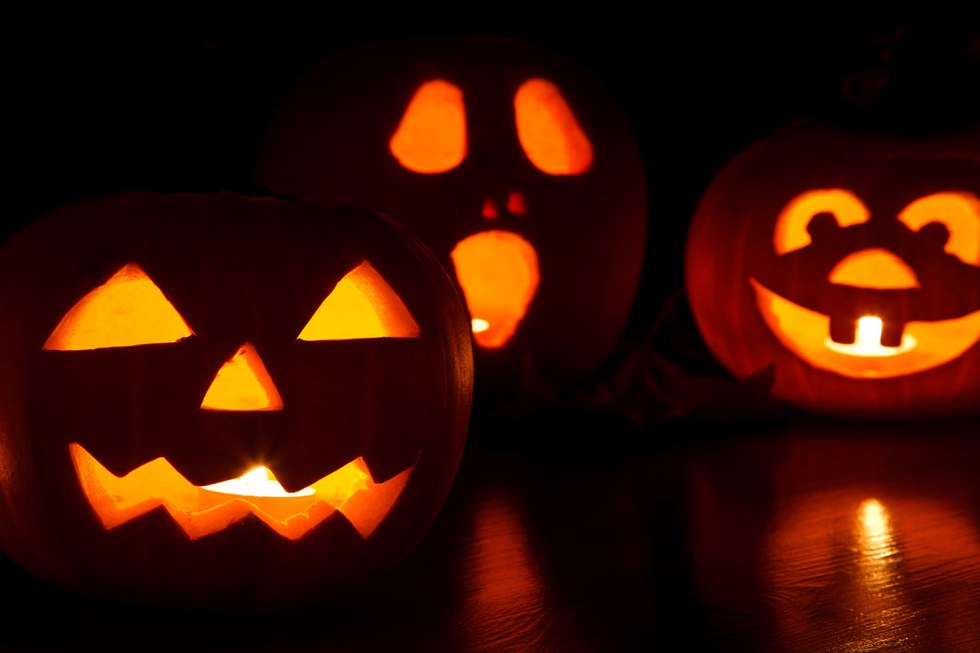 8.
Time for Thanksgiving!!! (aka eating a LOT of food.)
Thanksgiving, as known as Turkey day, mainly consists of consuming a lot of food in a short amount of time, resulting in a food coma. It's also a day for families to gather and spend time together. (Sidenote: Who remembers drawing turkeys by tracing around your fingers in elementary school?)
9.
As well as Black Friday shopping after Thanksgiving (and Cyber Monday too.)
One word: Shopping. Everyone loves a great deal, whether they get a new gadget, clothes. or makeup. I'm patiently waiting to splurge on things that I can justify buying because they're on sale. Cyber Monday is just as important too!
10.
Holiday season and Winter Break are only a few weeks away, giving us time to relax.
With so many holidays in the fall/winter seasons, I can't help but think of cold weather, warm blankets, no school, and spending time with friends and family. Make sure to enjoy this season, wear your favorite fall colors, and bundle up in rainy/snowy weather.
There is no lack of things to do. Most communities do have some free activities, but most do cost. If you have a family of 4, this can be high. How do you afford these? Do you skip them and make excuses because of money?
Change your

finances.

You deserve the finer things. The peace of mind to know that one little thing won't force a financial choice that keeps your family from experiencing the things you know they will love. The activities that build memories, personality, and bring joy.
Look at your finances.
Where

is your focus? Are you just surviving day to day? Or are you building for the future? A home. Retirement Income. College funds. Continuing your education. Maybe your family needs a vacation. Read on below for a few of my favorite offers…
Rory Ricord has been perfecting Link Post Blogging for over 25 years.Go here to learn more and earn more. Being Able to Work Online from Just About Anywhere. The Coffee Shop, the Park, at Home, on the Road, or really, anywhere you can access the Internet.  With FREE Wifi available from any McDonalds to any Hotel, and everywhere in between… The World is your Workplace when you working online at an Online Business! See below for more information. My goal is to show you how I've managed to become my own boss and how you can do the same! With just a few easy steps I'll be showing you how you too can break into this one of a kind program and begin to make money quickly and easily.  You'll be amazed at the type of commission you can make. And will no doubt be just as excited as I was to start recommending this program to others so that they too can finally make a change.
 
P.S. In Conclusion, stop searching for the next big thing, doing the guess work, and hoping something works… instead, follow something that is already successful and latches on! We cover several different areas of interest, and will be continuing to update and change offers as we get new ones… So keep posted.  Some of them have time limits to their availability so be sure to register so you'll get the Email notifications when this is happening. This will help you stay up to date and on top of some of the greatest offers online! GO HERE and Register On the Right.  
This site is your "inside" source for new things that can make a difference in your life.
 In both needs, wants and entertainment (something we all want more of all the time).
There are several things on this site that can enhance and make your life better.  Be sure to check back often, and be sure to browse through our various Categories of information.  This is something that is growing all the time, and it is all here for you, our valued friends and viewers. 
**Another one of my favorite finds is Movie Pass.  You can see that in the Arts & Entertainment Section.  This is an honest, great way to gain full and unlimited access to all the Movies you can Watch.  There is no better way.  Great Service, and one that most people have never seen or heard of. Another great find here!!! –

Be sure to check it out!
Within the realm of the Internet, Careers are created.  Those careers all revolve around the world of social media. In reality, social media is the backbone to your cash flow. With Sociable your backbone is going to grow stronger and stronger. Which means your wallet is going to increase as your sales explode to new heights.
With more people than ever get online to do business and pleasure, there is no limit to how many people you can reach in a day, a month or a year. Even the generation that did not grow up with computers is starting to get into the swing of technology. It's everywhere, our phones, computers, the TVs, tablets, and now even our cars.
Kids are connected to the internet at a very young age and start to use the social media for everything. Even schools are doing homework online now. The teacher has an inbox that students send their virtual homework to. No more my dog ate my homework excuses…since children check out a laptop from the school and have to return it in the same condition.
SEE IT HERE FOR AN OVERVIEW OF SOCIABLE BY RORY RICORD.  Hear "What it is, and why it could be a Business Direction for 
you".  It may be the best Career you haven't thought of – or have you? 
START HERE FOR AN ADDITIONAL OVERVIEW (Answers to Questions we get all 
the time).  Answers to many questions we are getting about how this works, and what a Re-Seller does.  Simple overview.  If you are diligent and can follow instructions… being a Re-Seller allows you some amazing income potential.  $400 to $1600 a month per client.  We teach you how to get them…we'll Help you get 10 ASAP so you can replace your income.  Or let's get you 100 so you can have an amazing lifestyle…  let's show you how to get several hundred so you can…. (Do anything you want)…
One Such Demand is in the need for fulfilling Social Media Marketing.
All business need to advertise, and all businesses in today's High-Speed World need a presence on all major Social Media platforms. If you aren't on a social media platform or two or all of them your business is not going to have the advantage it deserves! Your dreams are worth taking the time to find the right platforms and the right self-help programs to succeed.